I haven't had a Bridezilla moment yet. Even at 68 days out, I've kept it pretty calm, cool and collected. I'm giving myself a pat on the back.
However, I have found myself becoming a tad opinionated and picky about one particular thing. My bridal shower. Mind you, it took me less than two hours with my wedding coordinator to lay out every detail of the wedding.
The shower is scheduled for June 16. But let me give you some history on the bridal shower via East Texas (and maybe this is a Southern thing as well). Hell, maybe it's just a Pittsburg, Texas thing - but it is what it is.
Where I live a bridal shower is a very big 'to do.' You have not one hostess, but a range of minimum 10 hostesses up to however many names you can fit on the invitation. All of your gifts that have been purchased for you are brought to the site and laid out and arranged for everyone to gaze at. Here in East Texas we don't register at Dillards or Target - you register at the stores in our downtown area (if you don't, believe me, you're not going to get any gifts). If you need an example, here is my table at one of our local shops downtown:
But with all the hoopla surrounding the shower, each and every single one of them is exactly the same. Ladies, sheet cake, sherbet punch, mints and finger food. Nothing fun, unique or one of a kind. I've never been to a shower that is not a carbon copy of the fifteen I went to before that. Which is why I'm determined that mine will stand out and be different. And it will be just like I have pictured in my head.
It will carry the 'tea party' theme that I'm using at the wedding. However, I'm going to have a come and go shower - so nobody feels obligated to stand around and talk for two hours when they really want to be elsewhere. There will be no sheet cake and there will be mimosas. Mind you, I've never been to a shower in this town where alcohol is served. There will be lots of yummy foods - no deli trays from the grocery store here.And tons and tons of fun and whimsical sweets. I will be the talk of the town. This is what I'm hoping for! And that's why, even though I'm not supposed to, I'm coordinating all this goodness from behind the scenes.
I have this gorgeous and fun invitation picked out: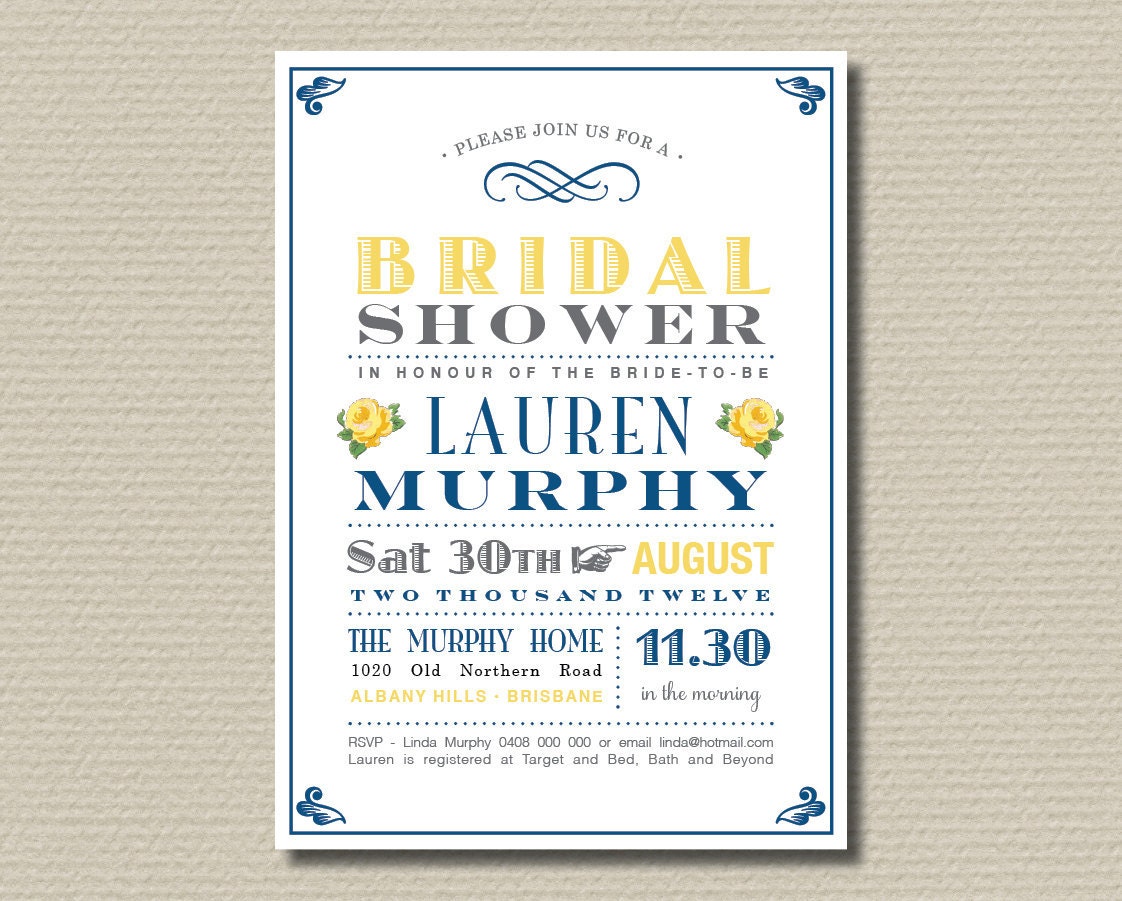 And maybe most importantly, what's the bride to be to wear? I'm not going to lie. I want to be the best looking, most fabulous person there with a dress to kill for. My sweet momma has promised me a new dress from Modcloth and I've shared some of my favorites here. What do you think?
I'm currently working on menu ideas. Apparently I'm not the first one to come up with the idea of an Alice/Tea Party bridal shower and there is some great inspiration out there (like these below):
So, tell me about your bridal shower! Was it simple and understated or over the top? Do you have certain traditions where you come from in this area?